Posted on February the 2nd, 2015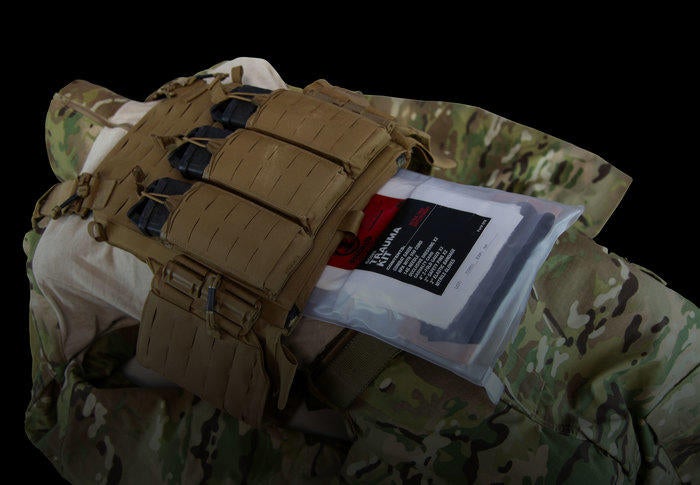 We are excited to announce the issuance of US Patent No. 8,925,115, which relates to our Low Profile Trauma Kits.
For Immediate Release
Phokus Research Group receives Patent for Low Profile Medical Kit
Patent covers a system configured to fit behind ballistic plates of a protective vest.
San Diego, CA, January 14, 2015 – The United States Patent and Trademark Office issues Patent No. 8,925,115 to Phokus Research Group for their Low Profile Medical Kit.
Battle tested in Iraq and Afghanistan, the Phokus Trauma Kit's lightweight packaging allows for quick deployment in the field. The innovative pressure sealed, flat design allows operators to comfortably wear medical gear that is concealable and instantly accessible, eliminating the need for bulky external medical pouches.
Designed as a system to fit behind the ballistic plates of a protective vest, the kit is protected from shrapnel and tearing, is easily locatable and removable and does not effect the user's freedom of movement. When the kit is removed from its protected location, it presents the medical trauma supplies in a logical and easily viewable manner.
Phokus Trauma Kits feature high quality, combat proven components that follow all Tactical Combat Casualty Care (TCCC) Guidelines. The contents are packed for priority of care and are sealed within heavy-duty medical grade vinyl that provides weatherproof protection of critical medical supplies. Radio Frequency (RF) welded seams provide superior loss protection of valuable equipment. Available in four sizes, Phokus Trauma Kits are designed to suit every Operator's needs.
"Being able to provide life saving medical gear that can be wore by an operator has always been our goal and we continue to innovate products for this life saving system." said Steve Friedlander, VP Sales and Marketing of Phokus Research Group
---